Hasn't 2018 just started? And yet, the Easter holidays are approaching once again. For me it is a wonderful time of the year, as I get to spend time with my family in the countryside. And, of course, there have to be some sweet treats on the table. That's why I already test baked these yummy espresso pecan muffins last weekend. The ingredients are all pantry basics. However, the muffins make a great first impression due to the pretty pecans on top. They are both low in fat and not too sweet—so definitely on the healthier side. You can even enjoy them as a quick breakfast on the go. Have I convinced you already?
---
Espresso pecan muffins
Ingredients (yields 12 muffins)

100 g pecan (ground or roughly chopped, depending on your preference) + 12 pecan halves
50 g fine oats
150 g whole grain spelt flour
1/2 tsp cinnamon
2 tsp baking powder
1 tsp baking soda
pinch of sea salt
1 large banana, mashed
1 flax egg*
1/3 cup maple syrup (approx. 80 ml)
pulp of 1 vanilla bean
1 double espresso, chilled
50 g coconut oil, melted
80 ml plant-based milk (e.g. spelt milk)
1 tbsp apple cider vinegar
*For the flax egg simply mix 1 tbsp ground flax seeds with 2 tbsp lukewarm water. Leave to swell for a little while.
Method
Mix together the flax egg first. Pour apple cider vinegar into the milk and put aside. Preheat your oven to 180°C.
In a large mixing bowl combine nuts, oats, flour, cinnamon, baking powder & soda as well as salt. Set aside 12 pecan halves for decoration.
Now mix the mashed banana, flax egg, coconut oil, maple syrup, vanilla and milk until well combined. Pour the liquids on top of your dry mixture and combine until the flour isn't visible any longer. The dough should be lava-like and quite fluffy. Be careful not to overmix as the muffins won't rise otherwise.
Using 2 teaspoons fill 12 muffin tins. Place one pecan half on top of each muffin. Bake at 180°C for approx. 18 min. Insert a wooden stick to check if they are done.
Note: In case you don't have any pecans, feel free to use other types of nut, such as walnut. Instead of espresso you could also go for a strong brew of chai tea. For this variation I would add more cinnamon as well as ginger & cardamom.
---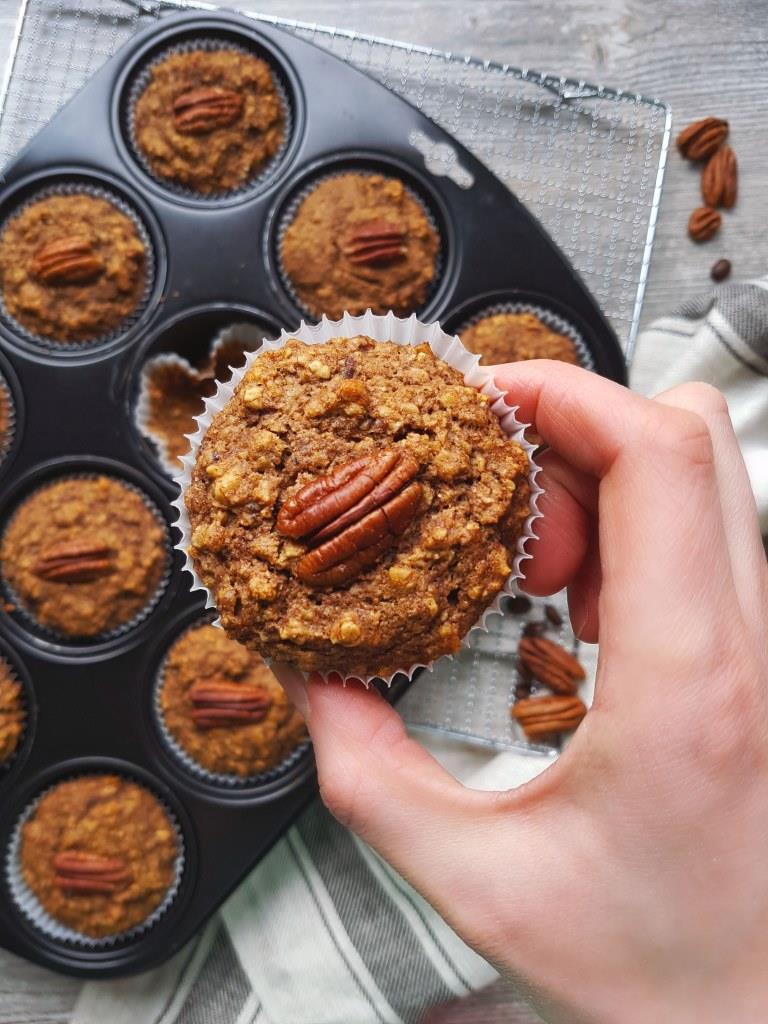 Really simple, right? And you can vary this recipe in so many ways. I am sure you'll find some ingredients in your pantry that are just waiting to be turned into a delicious treat like these muffins. Let me know how you liked the recipes and make sure to tag me on Instagram if you make these.
Much love, Caro